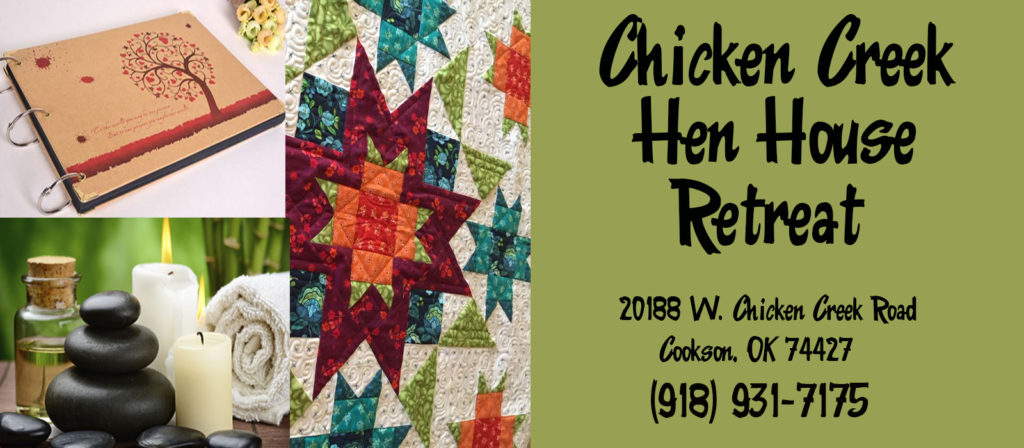 Quilting – Massage – Scrapbooking – and More
The Hen House is a 2,100 sq. ft. constructed (2011) home for "gatherings, get-a-ways and special events," with a focus on quilting and scrapbooking retreats.
All you have to do is bring your UFOs (unfinished objects) or projects you need to start. Enjoy focused creativity in tranquil surroundings nestled near Lake Tenkiller in northeastern Oklahoma. And 1 mile from the Chicken Creek Campgrounds & Boat Launch.
There are four bedrooms with 1 full, & 2 twin beds in each room, (12 beds). There are two bathrooms with two separate shower rooms that are handicapped accessible.
The House also has a fully equipped kitchen, large great room, tons of lights and tons of windows to enjoy the outside. There are plenty of comfortable and cushy chairs and tables. The design also is perfect for Vacation rental, tournament fisherman, family reunions, birthday parties, bridal and baby showers, club meeting, team building retreats, mother/daughter quality time and sorority gatherings.
****** BONUS*******
Reserve Friday and Saturday evenings with a retreat group of 10 or more and get
Thursday evening FREE!!
Email us at – Chicken Creek Henhouse Retreat
Please click on the link below to download a reservation form.
Fill it out and mail it to us.
Thank You!
Website Created by Stan Weed – www.stanweed.com